Discover your true north
True North offers the opportunity to discover a destination that's just right for you - your 'true north' - by comparing your musical tastes with the unique soundtrack of select cities. It combines the brand power of Emirates with the data science of Spotify to produce a wanderlust-inducing platform for destination and music discovery.
Spotify Australia in partnership with Havas Media and Emirates engaged Hydric to conceive a bespoke web application powered by Spotify's API designed to inspire people to travel to unique destinations and re-associate the Emirates brand with the joy of discovery.
Hydric discovered the unique musical identities of hand-picked destinations by analyzing tens of thousands of tracks, which were then integrated into the True North recommendation engine. This engine, which was specially designed for True North, scans a Spotify user's unique listening history, compares it to the unique music genre fingerprint of all the destinations, and serves them the city that they'll love the most - their 'true north' - based on their musical compatibility.
The user is rewarded with local knowledge and content curated by a real-life cultural tastemaker from the city, a user-personalised playlist of Spotify tracks popular at the recommended destination as generated by Hydric's Lineup technology, a personalised, shareable boarding pass image powered by Hydric's Darkroom service, and travel tips designed to turn their travel aspirations into reality.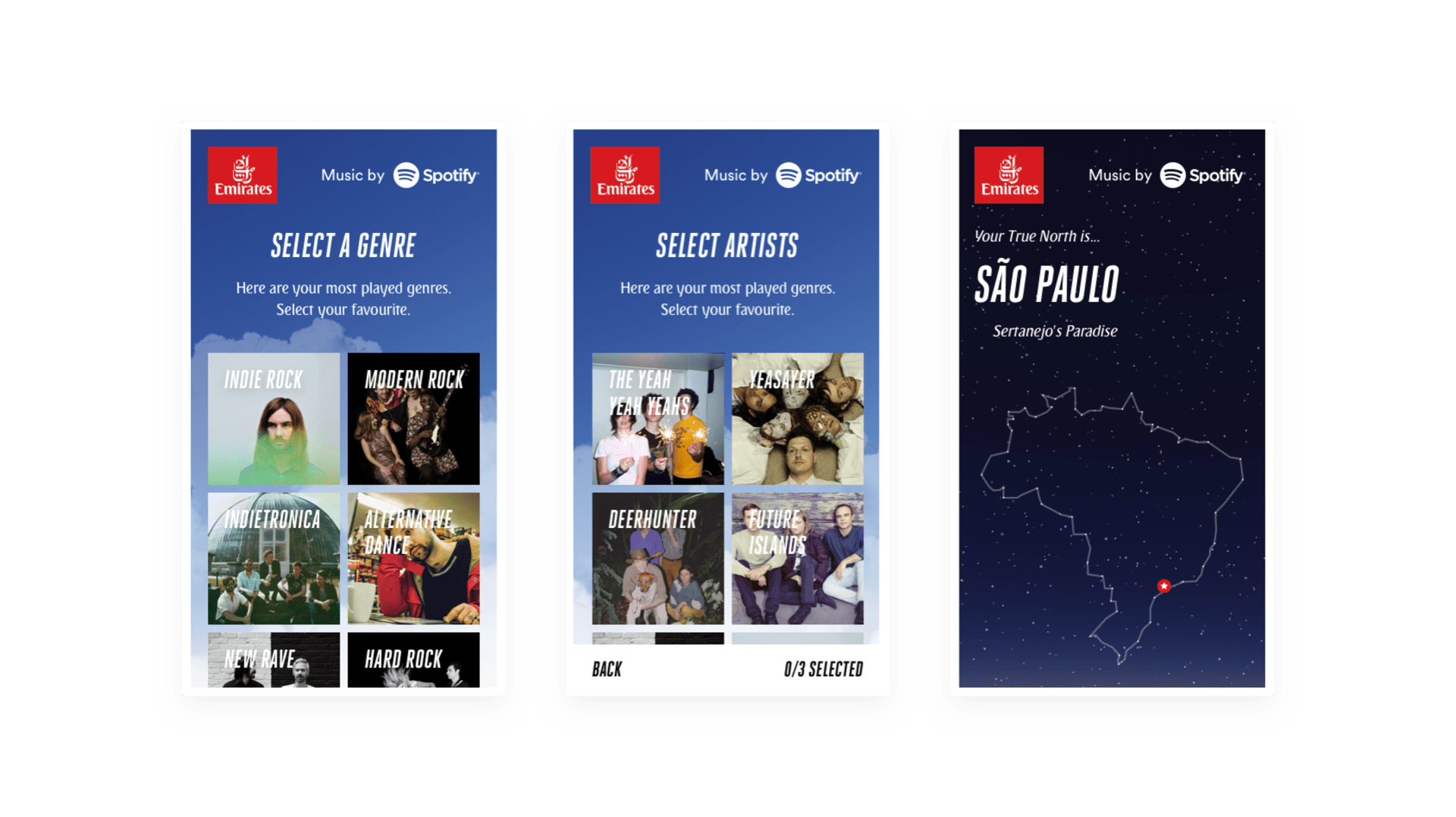 True North's delivery of a personalized destination and music discovery platform is elevated by the seamless integration of Spotify APIs, tailored local content, and stunning animation and design crafted by Hydric's team. Handpicked destinations such as Copenhagen, Tokyo, and Madrid await discovery by True North users who can navigate tailored local content to get a unique insight into local music scenes, the history of these destinations and the best areas to stay. Best of all, users can share their True North boarding pass on Twitter and Facebook to show others where their 'true north' really lies.