Apple allows developers to respond to reviews, Spotify introduces exclusive new content and Apple forbids prices in apps titles.

In this week in review, we're covering all things music and tech that should have landed on your doorstep. Hear our take on the latest industry news as we have our say and discuss what impact it'll play on the future.
These are the headlines grabbing our attention this week:
Exciting news has risen for developers in the App Store, as Apple informs that beginning with iOS 10.3, they'll have the ability to reply to app reviews. This is exciting news for app developers as there currently is no way of directly responding to user reviews on their app. Most developers are forced to instead find a means of communication with users through email or social media.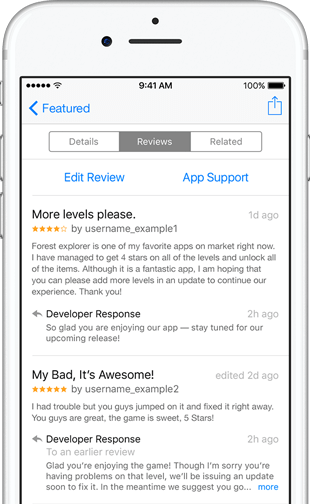 Apple commented:
"Positive ratings and reviews can encourage customers to download or purchase your app. By delivering great responses to users' comments and assisting those who have questions about your app, you can create a better user experience, drive increased engagement, and improve your app's rating."
Spotify introduces Traffic Jams – Music Business Worldwide
In a bid to take over Apples Carpool Karaoke, Spotify has created their own original content exclusively for users. The official press release stated:
"What do you get when you pair a rapper and a producer who've never worked together before, throw them in the back seat of an SUV, send them into the middle of LA's legendary rush hour traffic and tell them that they have to create a brand new song before arriving at their destination, the Spotify-All Def Stage, where hundreds of fans will be waiting to hear them perform that song… live?!"
Starting on April 4th, each week the program teams up a new set of artists to collaborate on an exclusive new track. Featuring great legendary names like T-Pain, Joey Bada$$ & Sonny Digital, the show looks like it definitely won't disappoint. All episodes can be found on Spotify under Spotify Original Videos.
Check out the official trailer here:
Apple now forbids apps to mention their price in their name – The Verge
There's been another shake-up in the app store as Apple now doesn't allow developers to include the price of their app in the name, icon, screenshot or preview of their product. We'll soon see a dawn of time for those animus 'HUNDREDS OF FREE EMOJIS' apps spamming the App Store.

Apple has already begun contacting culprit developers, stating that the new changes must be implemented. We're interested to see how far this could escalate if developers don't comply with the new terms.
What do you think about the new change? Could this be a way of ensuring compliant apps are given a priority for user searches? Let us know what you think by tweeting @hydricmedia.