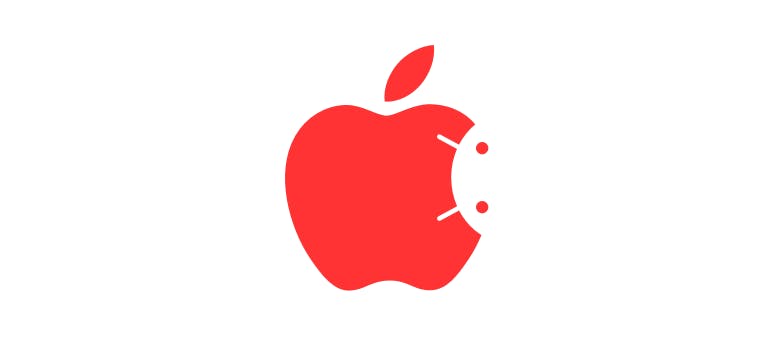 Your iOS app is a hit, now it's time to start planning Android. We've compiled a list of frequently asked questions and things you need to know when following up with Android.
Android numbers are strong global and getting stronger everyday.
Android leads iOS in US device share as of early 2016 (from comScore in February 2016)
Android has a lot of unique devices in different shapes and sizes. A great report from OpenSignal in 2015 suggests that almost 25,000 unique Android devices exist globally.
86% of iOS users are on the latest major iOS version (9.0 and above) which was released in September 2015. Uptake is generally slower on Android, often because device manufacturers are slow to adopt update. Supporting Lollipop 5.0, released in October 2014, will capture roughly 78% of Android users. (iOS stats, Android stats).
Here are some of the questions that Hydric sees more often than not, in the early stage of building an Android app, where an iOS app already exists.
1. Can I use a cross-platform solution?
Not Likely. The decision to use a cross-platform solution (Xamarin, Ionic, React) would need to happen before the development of the iOS app in order to reap the benefits. So, if you're asking this question now, it's likely too late.
2. Can my current developers build the Android app?
Maybe. Although iOS and Android app share a lot of common themes and concepts, they are built using a fundamentally different set of tools and languages. As such, developers typically specialize in one or the other. If you're fortunate enough to have 'ambidextrous' developers, lucky you!
3. What's unique to iOS?
iCloud – If your iOS app is using iCloud (syncing or storage), a similar replacement will be required for Android.
3D Touch – Available on the iPhone 6s/7 and 6s Plus/7 Plus
4. What's unique to Android?
Widgets – These are integral to what makes Android's home screen (and Android generally) so configurable.
More configuration – live backgrounds, custom dialers, custom 1st class audio players.
App Tasks/App Switching – There is a fundamental difference in how Android and iOS handle the concept of interoperability between apps. If your app performs a specific task really well in isolation – say audio playback, other apps may leverage that specific component within your app. It's a similar feature to the iOS 'Share sheet', but with more wide ranging applications.
Further Reading
https://developer.android.com/design/patterns/widgets.html
https://developer.android.com/training/basics/intents/index.html
5. Does the app need to be redesigned for Android?
Yes… but the extent of the redesign really depends on the complexity of the app, the budget allocated, and the timeline for development. In terms of guidelines for UX and design, iOS has 'the HIG' (Human Interface Guidelines) and Android has the 'Material Design' spec. A lot of the basic metaphors are directly transferable from one platform to the other. Beyond adhering to the basic translation of metaphors between platforms, the extent of the design port largely boils down to budget and timeframe.
Your designs will also need to cater for the more 'responsive' nature of Android layout, due to the variance in the shape and size of Android devices in circulation.
Android also supports more device densities than iOS. iOS supports 3 – @1x, @2x and @3x, where as Android supports 5 – ldpi, mdpi, hdpi, xhdpi, xxhdpi. An additional density – xxxhdpi – is supported for app icons only on some newer devices.
Further Reading
The HIG: https://developer.apple.com/ios/human-interface-guidelines/
Material Design: https://material.google.com/
Screen Densities: https://developer.android.com/about/dashboards/index.html
6. Is there anything from the existing iOS app that can be salvaged for the Android app?
Yes… but maybe not as much as you would like. By and large, the Android app will need to be written from scratch. The experiences of developing the iOS app can go a long way to informing the Android development. Networking and business logic can be 'borrowed' and mistakes experienced previously can be avoided. It is useful if your Android developer can at least understand the iOS codebase, or that the iOS team can 'coach' the Android team on the best way forward.
7. Will Android take as long to build as iOS?
Maybe. Our experience at Hydric suggests that an Android app will take ~20–30% longer than its iOS counterpart. This is largely due to the fact that more device types means more work to make the designs responsive, and support for older Android OSes, means more development and testing is required.
8. Anything else?
There sure is. Here are some of the lesser discussed topics that crop up for us, from time to time.
Google Play has beta testing built in, similar to Apple's Testflight.
If you've got a custom solution for Push notifications (on iOS), it will need to be upgraded to support the Android equivalent (FCM). Most 3rd parties solutions (Urban Airship, Mixpanel etc..) will support both out of the gate.
Unlike iOS, Android gives you access to unlimited background processing – however with great power comes great responsibility.
You can (and should) respond to your Google Play store reviews.